INDIVIDUAL SUPPORT SERVICES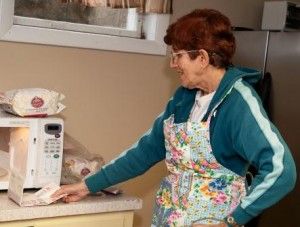 provide supports to the individuals who live independently within their community. This means that the individual receives less than 15 hours of support a week from the support staff. Staff assist the individuals with banking, budgeting, medical transportation, recertification paperwork for their benefits, grocery shopping etc. Almost all of the individuals supported under Individual Support Services work competitively in the community or attend vocational workshops or day habilitation programs. The rest like to attend local community senior centers or volunteer sites when possible. Currently, individuals are being supported throughout the Taunton/Attleboro communities.
RESIDENTIAL SUPPORT SERVICES
are provided to the individuals who live independently within their community and receive more than 15 hours of support from the staff but less than 24 hours.
In 2007, The Arc created an innovative residential model at Dunham Street. This model supports 5 gentlemen living independently in a home in Attleboro.
Region VI (Brookline) consists of 3 women that The Arc supports through flexibly driven services. These services allow for the women to work with their staff to create staffing patterns based on their needs.
Shared Living Services are provided to individuals that need assistance and can no longer live independently. The individual lives with a provider in the provider's home. Currently all of the individuals supported under Shared Living attend day programs 5 days a week. The Team Supervisor makes monthly visits to the home under Shared Living Services.
TAUNTON AREA RESOURCE CENTER
is a drop in center for the individuals to come and socialize and get together after their day and vocational programs. It is located in the Whittenton section of Taunton.  The hours that the activities are scheduled are Monday through Friday from 2:30p through 5:00p. Some of the activities include arts and crafts, dinner and a movie, indoor and outdoor walking clubs, Photo Club, Bingo, computers, and Wii Fitness.
PROJECT REC-CONNECT
is the Arc's recreation program. This program's mission is to provide quality recreation and life enrichment activities to increase an individual's sense of confidence, self esteem and accomplishment. The goal is to assist with developing and nurturing friendships, increase self esteem, and self worth for individuals. We promote fun, friendship, good health, competition, and learning for everyone.
Activities range from sporting events( college basketball, college hockey, college lacrosse, PawSox games, Providence Bruins etc) to dance classes,  to drawing classes, to Beauty nights, to local museums to whale watches to theatres for plays. There is very little that our recreation program has not participated in.
ACQUIRED BRAIN INJURY PROGRAM
was started in December 2010 here at The Arc. This program is to help to move individuals that are presently living in nursing or rehab facilities out into the community. The acquired brain injury must have happened after the age of 22. Some of the services that The Arc has been approved for to provide under this program are: Adult companion, Homemaker, Individual Support and Community Habilitation, Personal Care, and Supported Employment.